29 Jul

Recipe: Coca with figs and Morellana Hojiblanco oil

This recipe has been prepared by Concha Bernard, journalist and chef of the blog Cocina y Aficiones. Here are all the details of this delicious recipe.
Coca with figs and Morellana Hojiblanco oil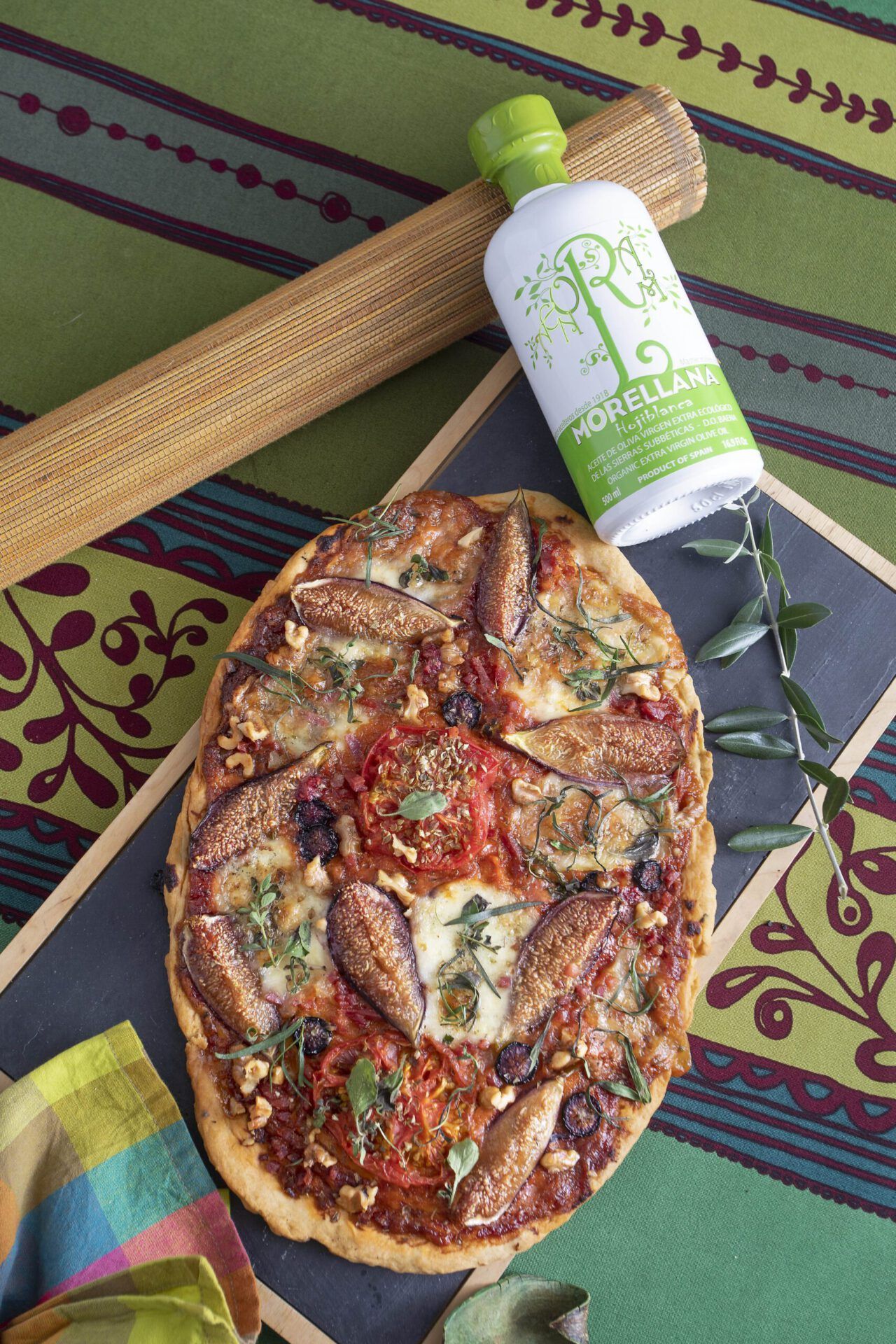 Ingredients for the dough: 
250 g of flour or the quantity requested by the dough
100 ml water,
100 ml dry, quality white wine
200 ml extra virgin olive oil Morellana of the hojiblanca variety by Sucesores de Hermanos López
baking powder, 15 g (one sachet)
salt
Step-by-step preparation of the dough:
Mix the flour with the yeast
Put the oil, wine and water in a bowl, add the salt, add the flour and mix.
Start to knead, the dough will be asking for flour, you will see that it will be sticky and without consistency.
Add flour little by little until all the ingredients are integrated, when it does not stick to your hands it will be ready, calculate between 10/15 minutes.
Wrap in a cloth and leave to rest for an hour.
Ingredients for the dough: 
Tomato sauce, as needed
Seasoned sliced tomatoes
Extra virgin olive oil Morellana from the hojiblanca variety
Brevas, 4 pcs.
Mozzarella, 1 ball
Walnuts, 100 g
Dried oregano
Dried thyme
cranberries, 100 g
fresh oregano, 5 g
Tarragon, 5 g
Marjoram, 5 g
Assembly of the coke:
Preheat the oven to 180ºC
Cut the tomato into slices, place it in a bowl and dress it with hojiblanca EVOO, salt and dried oregano.
Wash the herbs, dry them, separate the leaves from the stems and mix. Reserve
Spread the dough on kitchen paper previously greased with oil, forming an oval shape.
Fold the edges, you can mark them with a fork or make folds or leave it folded as it is.
Spread a layer of tomato sauce over the entire surface of the dough, sprinkle with a little salt and thyme.
Distribute the slices of tomato dressing covering the base completely.
Distribute the pieces of mozzarella.
Divide the wedges of the figs and the halved blueberries among them.
Put it in the oven, if you have the pizza function use it, when you put it in the oven put the heat on the bottom so that the dough gets crispy. When you see it starts to brown, turn the heat up and down.
Keep an eye on the oven as the roasting process is quick, when it is golden brown and crispy, the cheese is melted and as cool as the one in the picture, it is ready to be served at the table.
Top with a generous amount of fresh herbs and a drizzle of 200 ml Morellana extra virgin olive oil of the hojiblanca variety.